Inter Milan vs Verona: prediction for the Serie A match

Inter
Italy

Hellas Verona
Italy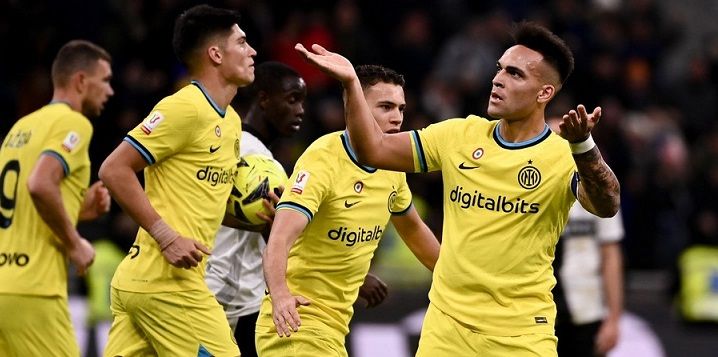 Get bonus
Inter Milan won the last four games against Verona. Will the favourites get another victory on January 14? Our answer is in the prediction below.
Match announcement

Inter
Inter Milan are having a rough first half of the season. Simone Inzaghi's team hoped to fight for the Scudetto this year, but it is unlikely they will be able to catch up with Napoli. At the moment, the Nerazzuri are in the top-4 with 34 points, three points behind AC Milan and Juventus. Inter have a chance to catch up with the opponents this weekend, but for that, they must win.
In the last game, Inter were held to a high-scoring draw against Monza (2:2). Earlier this week, the Nerazzurri overcame Parma in the Coppa Italia. After 90 minutes of football, the score was tied at 1:1, but Inter scored the winner in extra time and advanced to the quarterfinals.

Hellas Verona
Verona are one of the main outsiders of Serie A this season. Nothing seems to help the Mastiffs - they tried to strengthen the squad with new players, changed managers and experimented with tactics, but the team remains in the bottom three in the Italian elite.
Marco Zaffaroni's men collected four points in the last two matches. They got an away draw against Torino and got a confident victory over Cremonese (2:0) in the last outing. Currently, Verona are six points behind the safe 17th line. 
Betting trends
СтавкаCorrect score 2:0
Two of Inter's last seven victories over Verona had this score.
7.60

СтавкаInter to score in 2nd half
In the last six home games of Inter, this bet won.
1.29

СтавкаMonza to not score
In the last three games, Verona got only one goal against Inter.
2.05

Inter got a very important victory over Napoli, but then lost points against Monza and almost got knocked out of the cup. They will hope to bounce back and get a confident victory over Verona in the upcoming game. Despite successful matches against Cremonese and Torino, the Mastiffs are unlikely to overcome the Nerazzurri.
Our prediction – Asian handicap (-1.5) to Inter Milan
Do you agree with this bet?
votes
Inter Milan need maximum points here, and we expect them to deliver an exciting and colourful performance. No sensation here - we doubt Verona can upset Inter. 
Second bet - Inter Milan to win by 2 goals
Do you agree with this bet?
votes
Betting predictions stat