Philadelphia vs Toronto: prediction for the NHL game

Toronto Maple Leafs
Canada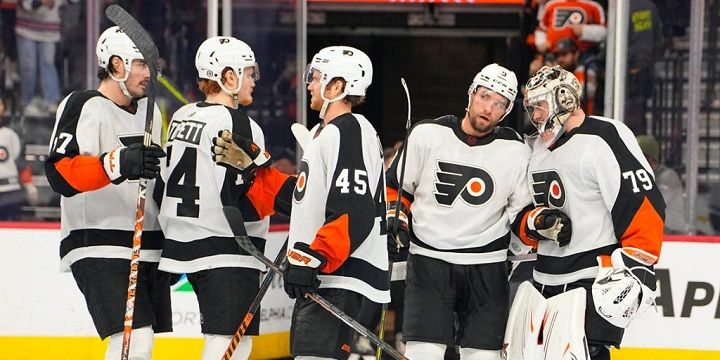 Get bonus
The Flyers and the Maple Leafs face off in the NHL on Sunday evening. What to expect from the teams? Look out for our prediction below.
Match announcement

Philadelphia Flyers
Philadelphia have picked up good form and have not lost in seven straight games. The team successfully ended a series of away games by defeating San Jose in overtime (4:3 OT), and then confidently beat Los Angeles (4:2) and Anaheim (4:1). Back at home, the Flyers crushed Arizona (6:2). Forward Frost was the most productive player of the game with four assists.

Toronto Maple Leafs
Toronto showed disappointing results in the recent home games. In the first match, the team hosted St. Louis. The Maple Leafs were close to victory, but in the end yielded in a shootout (6:5 SO). After that, the Leafs suffered a crushing defeat to Seattle (1:5). Goalie Murray had a terrible game and saved only 80% of the shots he faced. In the last game, however, Toronto got a confident victory over Detroit (4:1). Samsonov was much more reliable in goal than his teammate. 
Betting trends
Ставка1st goal: Philadelphia
In 3 head-to-head games out of 4, Philadelphia scored first.
2.20

Ставка1st period: total under 1.5 goals
In 4 out of 5 head-to-head games, no more than one goal was scored in the first period.
2.07

Toronto are slumping, and even at their home arena they struggle to collect points. It will be even harder to prove themselves away from home. Philadelphia, on the other hand, have gained momentum, and we believe they will be able to put up a good fight. 
Our prediction - Philadelphia to not lose
Do you agree with this bet?
votes
Toronto play an open brand of hockey and don't sit back on the defensive. As a result, they usually concede a lot, but they are also productive in attack. We predict a high-scoring game here. 
Second bet - total over 6 goals
Do you agree with this bet?
votes
Betting predictions stat