Germany vs Latvia: should you bet on the Latvians?
Germany vs Latvia. Prediction and Betting Tips for IIHF World Championship (June 1, 2021).

Germany
Germany
World Championship Preliminary Round Grp. B

Latvia
Latvia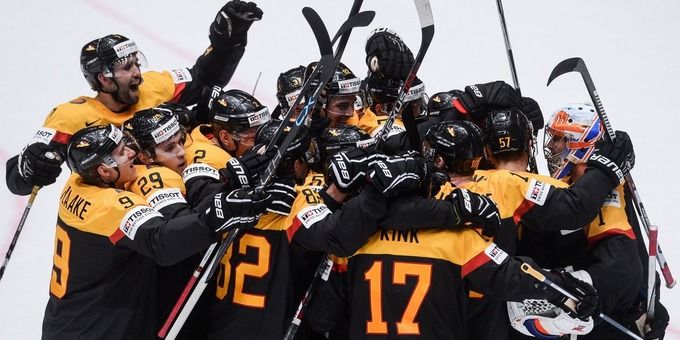 Below you can find our prediction for the game between Germany and Latvia which will take place on June 1. Can the hosts of the tournament qualify for the playoffs?

Germany
The German national team was the finalist of the last Olympics, so their presence in the Top 4 should surprise no one. They need to win this game to go through to the playoffs. However, Germany lost their confident game and got beaten three times in a row. Instead of enjoying a comfortable lead they now have to struggle for the top three positions. 
First Bundesteam lost to Kazakhstan (2:3), and then yielded to such strong counterparts as Finland (1:2) and the USA (0:2). The Germans were quite disappointing in the attack. 

Latvia
Latvia are the hosts of this tournament, and that definitely gives them a confidence boost: they have been very uncompromising. They are only on the sixth line of the standings, but the team lost in regulation only once. If they win today, they can get into the top four, because at the moment they are one point shy of being in the top half of the table. 
The Latvians put up a fight against Finland in the previous game (2:3 OT) and managed to beat Canada (2:0). 
Betting trends
One team will score 2 goals
2.07

In three games of Germany, the final score included a deuce.
Correct score: 2:2
9.30
Two of Latvia's five games ended with this score.
Prediction
We believe that this game will have very few goals because it is too important for both teams: the result will decide, which team advances to the playoffs. Maybe the teams will play very carefully, maybe it will be even boring all the way till the penalty shootout. Bob Hartley can strategically outplay his opponents and make his charges sit back in the defense. 
Out prediction - total under 4.5 goals. 
Prediction: Total under 4.5 goals
Do you agree with this bet?
0

votes
We suggest playing a win of the German team. They do not have many star players in the roster, but their overall level is higher, and they have more experience than the Latvians.
Second wager - Germany to win.
Prediction: Germany to win
Do you agree with this bet?
0

votes
More Tips